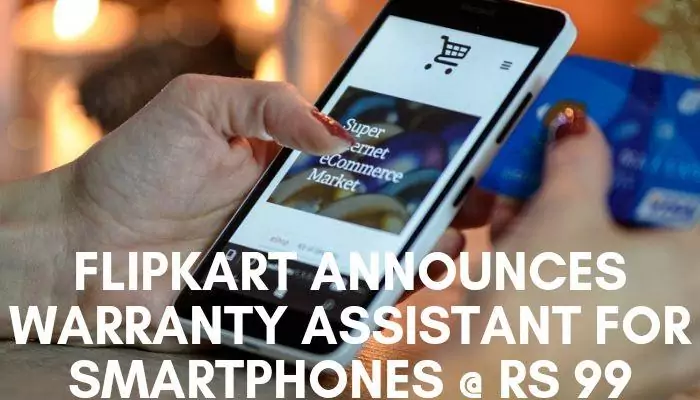 On Monday Flipkart announced their new Warranty Assistant for a smartphone. Now Flipkart provides smartphones warranty at Rs. 99 only with the smartphone which is bought on Flipkart. This warranty assistant covered hardware issues, software, and manufacturing defects in a phone which is bought on Flipkart.

You can buy a warranty assistant with the purchase of a smartphone with Flipkart cost Rs. 99 only. The company also claims to provide a doorstep pick up when something wrong happened with the phone during warranty period. Flipkart said that this is done because of the safety of the customer due to Covid-19.

In the terms and conditions of Warranty Assistant covers smartphone which is mention in their terms and conditions and product which are sold by registered sellers and this facility is available in some cities and in some pin codes only. Flipkart also claims all the best services such as door-step pickup and toll-free call centers and helps in fixed customers' problems fastly. This service covers only the payment of Rs. 99 only at a time to purchase a new phone.

The program policy is purchased with the purchase of the product and the Warranty Assistant mentioned in that product. The warranty started after the product is delivered and some features of Warranty Assistant are below:-
Multiple manufacturing defects including software defects.

Repair facility with free Door pick up and drop facility.

Any internal or physical damage and theft or loss of the device. 
Theis above features is included in this policy.
Frequently Asked Questions(FAQ)
Q1.How do I claim my Flipkart extended warranty?
Ans. To claim Flipkart extended warranty you have to go customer care option on Flipkart or call on toll-free customer numbers of Flipkart.
Q2.What is the Flipkart Smartbuy warranty policy exactly?
Ans. 
Flipkart Smartbuy products are sold by Flipkart and it's like Amazonbasics products.
If you need any help with the product just contact Flipkart Customer Care, they will help you with the warranty!
Q3.How good are Flipkart SmartBuy products are?
Ans. I purchased two products a screen monitor and an earphone
The phone was worth the price and the warranty were great. When I filed a warranty after the phone malfunctioned I returned my money. The feeling was good enough
But in the case of a screen guard, the screen monitor wasn't in size. It was not compatible with my Poco phone so it was not worth it, but because I was too late to look I couldn't apply for a refund.
So eliminating the warranty is fine but the products can sometimes not be very good. I hope because I can get it back and change it.