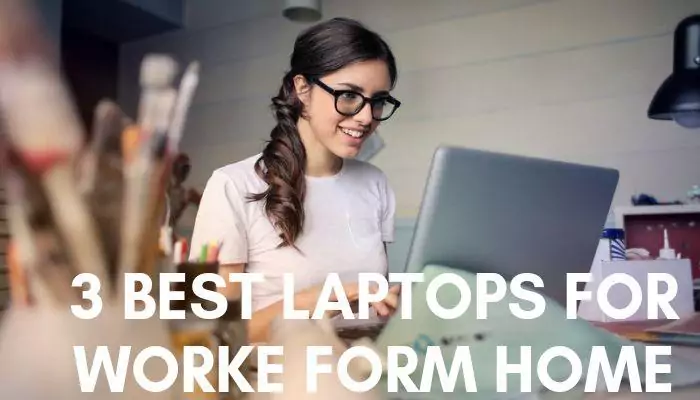 Which laptop is best for Work from Home? This question arises in every jobber mind during the spread of Corona Virus so, there is a huge risk to go outside and do work. For that many need a laptop to do work from home. After deciding to buy a laptop again one more question arises in mind that which laptop suits my job so in this article, we tell you the 3 best laptops for work from home.
Xiaomi is launching its new Notebook that is Mi Notebook in India soon but may people not wait for launching and they need or want to purchase a laptop now. Now many companies start targeting jobbers and start working on some of there model suites to their work. So they started to enable many features and improving performance like battery backup because if the light cut off then also the user and carry forward there work without and encryption and do work for a long time. They also include many hardware which they need to improve productivity and efficiency both of the work.
There is a list of popular professional laptops that are available both Online or Offline So read the list below and I hope you may like this collection and it may help you to select the best one:-
Top 3 Laptops for Work From Home
Acer Swift 3 features are:-
14 inch Full HD Display(1920*1080)
AMD Ryzen 4000 series processor
16 GB RAM and 512 GB PCIe Gen3 NVMe SSD storage
With stereo speakers and Windows 10 Home
It also has some Important connectivities:-

WiFi6
Bluetooth V5.0
USB Type C port with DC
USB 3.2 Gen with Power-off Charging Support
1 HDMI Port
This laptop also some other important features such as 48 Wh battery which may give you up to 11-hour battery backup and it also has fast charging support and it claimed that by charging 30 minutes it gives 4-hour battery life and its total weight is 1.2 kilograms which is average.
Starting Price-59,999


If you don't like AMD than you can try HP 14S (2020) which is recently launched which come with 10th generation Intel Core i3 or Intel Core i5 processor with 8 GB RAM
Features:-
14 inch Full HD Display(1920*1080)
1 TB SATA HDD and 256 GB PCIe NVMe M.2 SSD
It also comes with Built-in Intex XMM 7360 4G LTE 6 modem
It also has some Important connectivities:-

Dual-Band WiFi
Bluetooth 5.0V
USB Type-C port
HDMI 1.4b
2 USB Type-A Port

41Wh Lithium-ion Battery
Starting Price:- 49,999
If you are looking for cheaper than you go with Asus VivoBook 14 is the best option.
14 inch Full HD Display with anti-glare
10th generation Intel Core i3
4GB RAM 256 GB of SSD
Stereo Speaker and backlit Keyboard
It also has some Important connectivities:-

Wifi 802.11ac
Bluetooth V4.2
HDMI Port
1 USB 3.2Gen
USB Type-C port
Fingerprint Reader with Windows Hello
Starting Price:- 35,990